NOTIFICATION:  9 JUNE 2019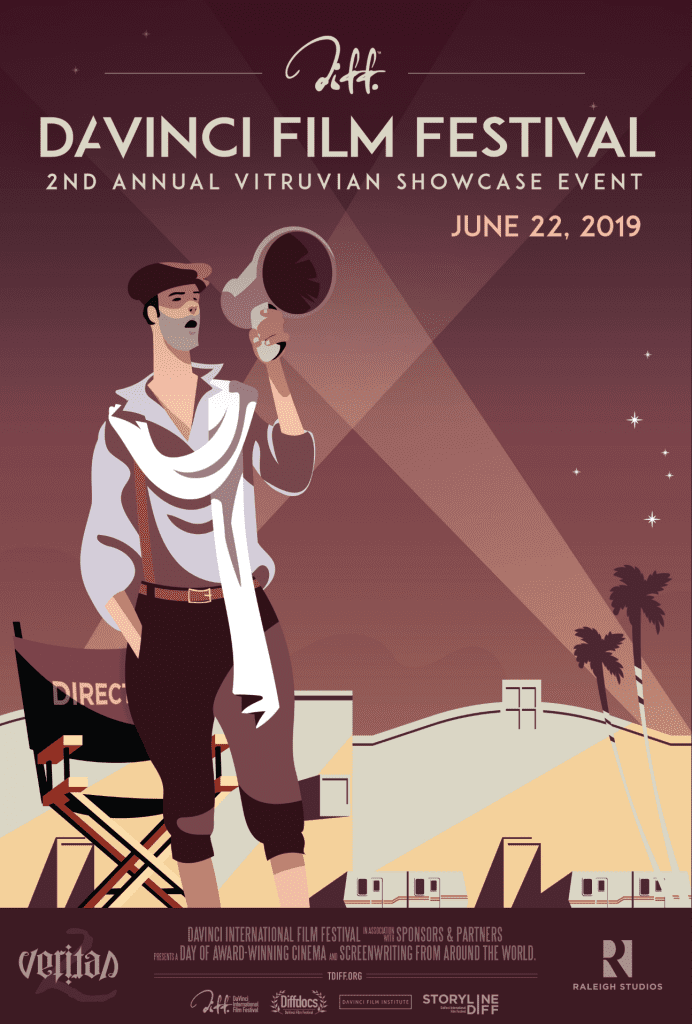 DaVinci International Film Festival (DIFF) is an organization devoted to independent film, documentary, and screenwriting from around the world.  We advance the careers of filmmakers and Creatives through our award-winning platform, Live Showcase Event, networking, and strategic international partnerships.  DIFF accepts a wide-range of entertainment properties (Categories) through our Programs (Film Festival, STORYLINE℠, DIFFdocs, and DaVinci Film Institute) to honor the independent film community worldwide.  Categories include long and short format film, animation, documentary, music video, and screenwriting.
DIFF operates as an online quarterly festival, qualifying winners in feature, short format, documentary and screenwriting with our Vitruvian Award™ who go on to screen at a Live Showcase Event for their shot at The Leo.  Please visit our FAQ section for answers to our more popular questions.

THESE DATES APPLY TO EACH QUARTERLY COMPETITION
Call for Entries:  1st of the month (eg. May)
Earlybird Deadline:  ~11th of the month (eg. May)
Regular Deadline:  ~9th of the following month (eg. June)
Late Deadline:  ~7th of the following month (eg. July)
Extended Deadline: ~21st of same month (eg. July)
Notification: ~27th of same month (eg. July)
Winners Announced:  1st of the next month (eg. August)
For exact dates on current quarterly cycle, please visit our film festival partner, FilmFreeway. (~ = estimate)
† 4th Quarter is truncated to allow for travel preparation for any out of town 4th Quarter Vitruvian Award winners.  We will accept submissions after deadline on a case-by-case basis.  Contact us with any questions.
IMPORTANT:  DIFF OFFERS ENTRY WAIVERS ON A CASE BY CASE BASIS.  For submission discounts and promos, follow us on our social networks.
* Subject to change without notice   † Vitruvian and Leo Award qualifiers.
All Entrants understand that "Official Selections" are recognized as Vitruvian Award™ winners at DIFF, and are selected from our group of Finalists each quarter.  Only Vitruvian Award™ winners will go on to screen at the DaVinci International Film Festival Live Event Showcase annually.  All Finalists are encouraged to attend and will be mentioned in the DIFF Program.
DIFF is an online quarterly film festival, and all material submitted to DIFF will be entered into a quarterly competition series in respective categories.  ALL UNSCRIPTED IP, including treatment, logline, synopsis, sizzle reel or otherwise associated with submitted unscripted project MUST AGREE to our Policy and Rights Release Agreement prior to submission.  NO EXCEPTIONS.  Any and all unscripted work will NOT BE REVIEWED by any employee, associate or otherwise affiliate of DIFF prior to a satisfied Rights Release Agreement.
By submitting your project (all categories) you agree and allow the DaVinci International Film Festival (DIFF) to showcase, publish, screen or otherwise promote the submitted project (Finalist or Vitruvian Award™ winners) and are obligated to your commitment* for the live event.  Live Showcase Event projects (Vitruvians/Honorable Mentions) will screen using DCP file format.  Questions?  Please contact us!
The DaVinci Film Institute grant program seeks to award one (or more) duly qualified candidate(s) each calendar year with a film grant.  The DFI program is funded by a portion of the festival's submission proceeds.  DIFF, the DaVinci Film Institute and related affiliates, reserve the right to cancel this Award and/or roll admission to the following year at its sole discretion. Please contact info@davincifilminstitute.org for more information.
* We ask that our Vitruvian Award winning filmmakers attend the Live Event Showcase, but if it is not possible, DIFF still requires filmmaker(s) to provide film file/s as well as print materials for the screening and Program.  Please contact us with any questions.  Thank you and good luck!
SUBMIT THROUGH OUR FESTIVAL PARTNER BELOW
DaVinci Film Festival proudly accepts entries through our film festival partner, FilmFreeway which offers free HD online screeners, unlimited video storage, digital press kits, and more. Submit with confidence by clicking a logo below.